The Double Cluster Area
Copyright © 2003, 2007, 2011, 2017 by Dick Locke. All Rights Reserved. Contact and Image Use Information

Huge Mouseover Double Cluster Area here.

The Double Cluster, along with The Heart and Soul Nebulae
The famous Double Cluster (NGC869 and NGC884) is a beautiful binocular object & relatively easy to find (right-center). In the center the red nebulous areas of IC1805 (above) and IC1848 (lower). These are known as the "Heart and Soul" nebulae, with IC 1848 being the Soul and IC 1805 being the Heart. IC1805 does look a like a heart in close-ups, and some astroimagers have referred to IC1805 as the "Sole" in that it does resemble the sole of a shoe in close-ups.
This is a 88 minute total exposure through the Nikon 55mm camera lens at f4. This is much better than the 41 frame image of the area from a night with significant transparency issues. December 2010 from the Davis Mountains. See the Heart & Soul Nebula page for telescopic close-ups of those objects. There's a huge image of this area with a mouseover here.

The Double Cluster
6x4 minute = 24 minutes exposure from Starry Nights in Wimberley, 12/29/2007. Equipment Canon EOS 20Da (unmodified) ISO 1600, Takahashi TOA 130 (a 5" APO refractor) with flattener, and Astro-Physics AP 900GTO mount. It was early in the evening and I hadn't quite sorted out my guiding, but not too bad. Compare with older film version, bottom.

Double Cluster: 85mm Close Crop
This is the same source image as the huge version here; see this page for details. I tried to dim the stars a bit on this one to better simulate what you'd see in binoculars (though you definitely wouldn't see this much color.)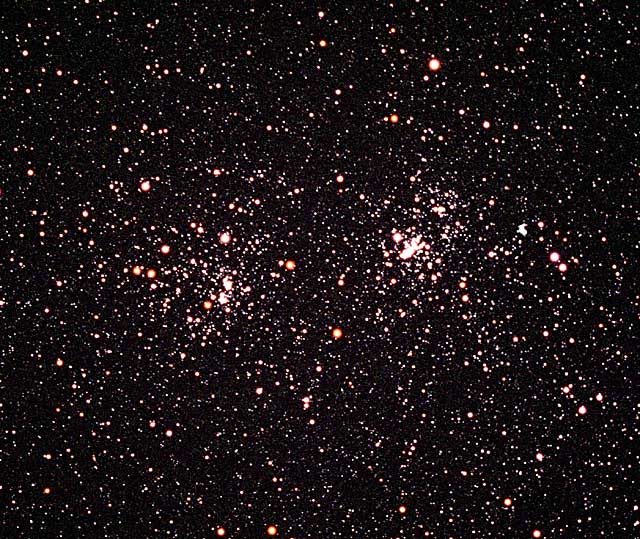 More info about the double cluster in Perseus here along with an image from a 180mm camera lens. Lots of stars!
Notice the subtle color in some of large red stars.

Photo by Dick Locke
NHAC "Sammy Neal" Observing site, 02-01-03
~20 minute exposure
Tak FS-102 prime focus with reducer at 610mm focal length, f5.9
SBIG STV autoguider using Celestron ST-80 guidescope
Losmandy GM-11 mount
Kodak LE 400 film, OM1n camera
Negative Scan, Nikon Coolscan IV ED, Processed in Photoshop

Cassiopeia Area Wide
Copyright © by Dick Locke. All Rights Reserved.
Contact and Image Use Information