Dick Locke's TOA 130 & Astrophotography Equipment Page
Copyright © 2004-2016 by Dick Locke. All Rights Reserved. Contact and Image Use Information
This is my Takahashi TOA 130 page. More pictures of the TOA 130 and my astrophotography setup is here on my main equipment page.

Dick Locke's Astro-Imaging Setup Fall 2011
TOA 130 Middle, FSQ-85 on right, ST-80 Guide Scope left, AP 900GTO mount holding it all.

M31 - Full Frame Example with New Reducer
This is the best 10 frames from September 28 2016 and is presented primarily to show the full-frame results with the new TOA reducer (TOA-35 Reducer 130Set, TKA31580N with the reducer itself being TKA31580).
Takahashi TOA 130 telescope with the new reducer so focal length is 700mm (698) at f5.4 (5.37). Captured on the Nikon D810A camera (full frame); FOV is 176x118 arc min, 1.47 arc sec per pixel (just about perfect.) My equipment rides on the AP 900GTO mount. The final version with two night's images and better processing is on my main M31 page here. There's a larger, single frame image below if you want to take a closer look at the star quality.

Large, Single Frame M31 with TOA 130 and "New Reducer"

Takahashi TOA 130 Telescope
The TOA 130 (on my old Losmandy G11) ready for action at the old NHAC Neal Site . Dig the Crepuscular Rays. See Cloudscapes for info on Crepuscular Rays. See http://www.ems.psu.edu/~demark/471/CrepuscularRays.html
The TOA 130 is a 1000mm f7.7 focal length APO triplet lens refractor. With the old reducer, the focal length is 754mm at f5.8. With the new (2014) reducer, the focal length is 698mm at f5.4 (looks like it's really f5.37 to be exact).

TOA 130, Flattener, and QHY8 Imaging Train
This October 2012 update shows the "Precise Parts" 35mm long adapter attached to the QHY8 camera giving me the correct distance between the flattener & the camera. Your optimal distances depend on your camera model. A Table for the TOA 130 is at the bottom of this page. The parts in order are (one and only one!) CA 635 (a fat, threaded extension ring), compression fitting, flattener, TCA 1050, and the PP 35mm adapter. The Precise Parts adapter replaced 3 adapters LSS/TNR cobbled together for me prior to a Takahashi part being available, which I believe is the TCD0350.
Sometimes I go months without being able to do any imaging and I forget how to hook everything up with approximate focus... I hate it when that happens. These pictures with the QHY8 to remind me. Flattener metal back distances: f/7.5 . 980mm, 117.5mm w/TOA-130 NS (2.7" focuser).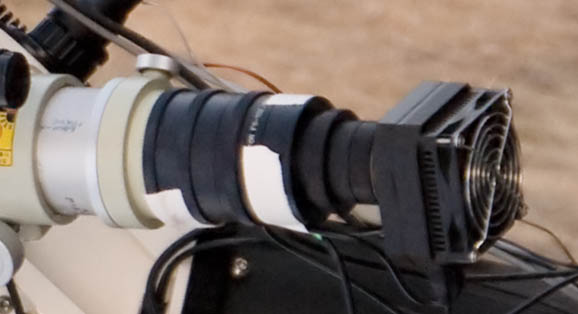 Above: Reducer Imaging Train
For TOA and reducer (TOA-130R) I'm using the correct 35mm (distance) set of adapters. Takahashi now has a single part (instead of 3) to mate the QHY8 & reducer. According to this Anacortes link, distance to chip parameters should be 83.7mm w/TOA Reducer (f/5.79 · 780mm). A similar OPT link is here. ST-8300 camera: the chip is .7", 17.5 mm, behind front plate (delta is 66.2mm).
For reference, the distance from film to the front of Nikon cameras is 46.5mm, 46.0mm for Olympus OM, 44.0mm for Canon EF, and 42.00 mm for Canon FD.

Above: TOA 1.6x Imaging Trail with 35mm Camera

Above: 1.6x Imaging Train
This is also showing an incorrect adapter between the TCA1050 and the camera; this should be using the 35mm length adapters.

TOA 130, New Reducer, DSLR Configuration

Takahashi TOA 130, Losmandy G11, dual saddle plate, Celestron "short tube" ST 80 being used as a guide scope with the SBIG STV atoguider. The Canon EOS 20Da camera is connected to the TOA 130. You can also see the Rigel Quick Finder on the left of the TOA, along with some dew heaters & associated power cords.


G11 Imaging Setup

Above: Losmandy G11 mount with DSBS dual saddle plate. TOA 130 on left, ST80 with the STV CCD head on the right. STV controller on the bottom (between the legs.)

In English, a refractor is the type of telescope familiar to most people, very similar to an old "spyglass" in design. Refractors have lenses near the front of the telescope, with an eye piece (a small lens) in the back.

For Photography, a camera is connected to the back of the telescope, the part you would look through. With reducer, focal length is 754mm at f5.8

TOA 130 prime focus setup and focus point with old FS 102/128 reducer:

Notes on guiding with the G11

I'm carrying a TOA 130 and a ST 80 guidescope on my G11. I had a challenge in getting the sculptor galaxy image... Due to a lack of bright stars in the region, I was guiding at maybe 4 second correction intervals. That just isn't quick enough for my mount, so I re-framed so that I could get a bright guide star with about 1 second corrections. That made a large difference in the quality of my stars.

Scopes, plus Venus, Moon, Mars, Saturn

Probably from 5/21/2004, definitely from West Texas in the Davis Mountains. This shows my old Takahashi FS 102
Takahashi Adapter Notes:
TOA 1030 = FS-102 CA 35, TOA

TCA 1020 = Sky90, FS78, FSQ-85 CA 35

TCA 1050 - the 50.8 mm tube with a compression fitting on one end and screw-in fitting on the other, labeled CA-35(50.8)

ST-8300 camera: the chip is .7", 17.5 mm, behind front plate
QYH8 camera body plane distance to chip is 21mm
Delta QHY8 - ST-8300 distance is 3.5mm
CCD Calculator from Starzonia is here.
TOA 2.7" Reducer FOR 83.7mm BACK FOCUS: TOA-130R
NOTE 2014: The new TOA 130 reducer comes with a spacer that allows you to use your old adapters! Good job Takahashi!
CANON EOS DIGITAL SLR

TCA1030 + TMW0004

NIKON DIGITAL SLR CAMERA

TCA1030 + TMW0001

SBIG ST8300

SBIG ST8300 + FW5

TCA1030 + TCD0385 + CAMERA

TCA1030 + TCD0075 + TCD0009

QHY-8

TCA1030 + TCD0350 + CAMERA
TOA Extender and Flattener: 117.5mm FOR TOA-130FN TOA-130/150
SMALL FLATTENER, EXTENDER-TOA,
CANON EOS DIGITAL SLR

TCA1050 + TMW0004

NIKON DIGITAL SLR

TCA1050 + TMW0001

SBIG ST8300 + FW5

TCA1050 + TCD0075 +

TCD0009 + CAMERA

QHY-8

TCA1050 + TCD0350

A fun shot of a jet's contrail through the TOA...

hits since 12/27/2004 update.