Dick Locke's Narrowband Imaging Page
Special filters can fight light pollution with technology. This page features narrowband pictures using color cameras. More narrowband pictures with my latest equipment are now available here shot with SBIG ST-8300M camera. Narrowband (NB) filters enhance contrast of emission objects by accepting only a narrow range of wavelengths around the emission lines of hydrogen (H-a, 656 nm), oxygen (OIII, 501 nm), sulfur (SII, 672nm). Please scroll down for the Rosette Nebula and more. H-alpha info here. More Narrowband Images are on my ST-8300 Narrowband Imaging Page.
Below: Some high resolution Rosette Nebula area images...

H-alpha Bok Globules Close-up, Rosette Nebula, 5.3 Hour Narrowband Image
Rosette Nebula in Hydrogen-Alpha. I have processed this image trying to highlight the Bok Globules plus the subtle gradations in the dimmer areas of the nebula. As of 2/1/2009 it replaces the previous image that had about 1/3rd the exposure. The difference is a subtle reduction in low-level noise and a bit more detail.
This area is rich in hydrogen alpha wavelength emissions. Notice the Bok Globules throughout the image, which was derived from 5.3 total hours exposure during January 2009 from The Woodlands, TX.
Equipment used: Takahashi TOA 130 Telescope (a 5" APO refractor telescope) and flattener, Astronomik 13nm Hydrogen Alpha filter, AP 900GTO mount, QHY8 CCD Camera. Other pictures from the camera are are here. Images processed using my Astronomy Image Processing Workflow, with the additional step of discarding all the Green and Blue colors in Photoshop.


Main Rosette Nebula Page is Here

Additional H-alpha Rosette View: 45 Frames
Above: 3.75 hours exposure Jan 2009 from The Woodlands with the QHY8 as described elsewhere on the page. See the color close-up of this area below.

My main Rosette image page is here:
Speaking of interesting narrowband blends, check out this Rosette Nebula APOD.

Hydrogen Alpha Horsehead - DSLR Wider View
17x4 minute = 68 minutes exposure using Astronomik 13nm Hydrogen Alpha filter, ISO 1600. Canon EOS 20Da (unmodified), Takahashi TOA 130 (a 5" APO refractor) with reducer, and Astro-Physics AP 900GTO mount. Not bad for this exposure from the back yard with a ~33% moon.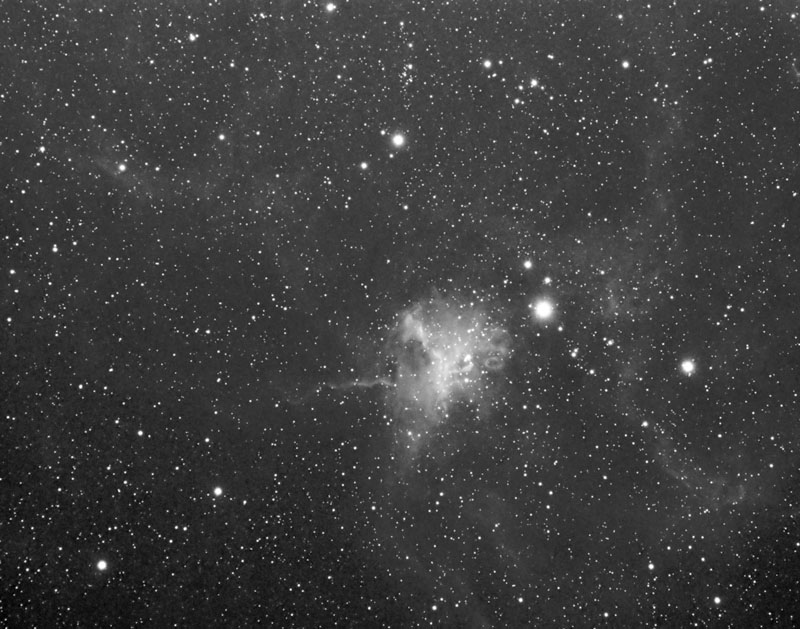 Spider Nebula, IC 417, backyard (40 Frame) Hydrogen Alpha filter, 2009.
Still a bit noisy at 40 frames from suburban skies. This is a very dim object, at least for the spider's "legs", so extra long exposure times are absolutely need on this one.
Imaging H-alpha with a one-shot color camera (which includes my DSLR and QHY8) is the worst-case scenario, as only 25% of the sensor area will pick up the deep red: Craig Stark, the Nebulosity and Phd Guiding guy, has a couple interesting articles discussing this referenced below. I did some experimentation with the 2x2 binning process Craig recommends in the second articles but I decided to go with my normal workflow, followed by discarding the green & blue channels in Photoshop using the image mixer function.
<http://www.stark-labs.com/craig/articles/assets/Debayering_API.pdf>
<http://www.stark-labs.com/craig/articles/assets/LineFilterRecon_API.pdf>
Astronomy Pictures: Dick Locke's Astrophoto Gateway page....
Copyright © Dick Locke. All Rights Reserved.
Contact and Image Use Information