Old M45 images by Dick Locke, The Pleiades (The Seven Sisters)
Copyright © by Dick Locke. All Rights Reserved. Contact and Image Use Information
M45 & Comet
Newer & better M45 Pictures here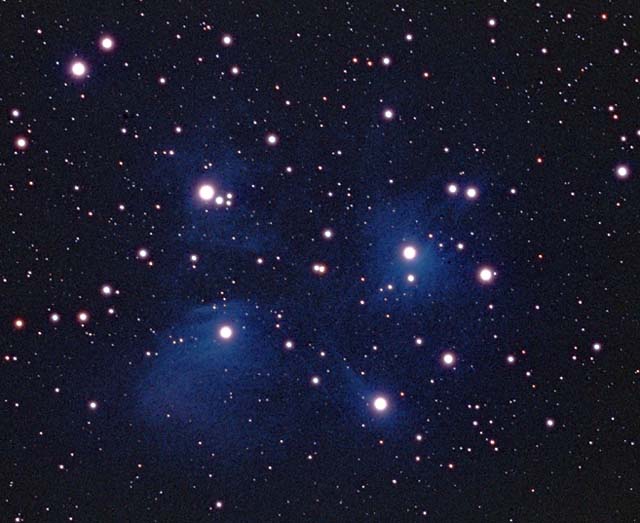 Photo by Dick Locke, 11/17/2001
"The Pleiades" is Messier object 45, and is also known as "The Seven Sisters." It is an open star cluster and features a nice blue reflection nebula. As it resembles a small dipper, it is often mistaken for the Little Dipper. (The real Little Dipper is much larger and always directly North.) Generally there are only 6 stars clearly visible in this object, and there's been discussion as to why there are seven sisters instead of six. This object is quite high in the sky and well-placed for viewing in the Fall. More info about The Pleiades is at SEDS. See the newer, and perhaps better, version here Here's a slightly larger view. I also have a Nikon D100 DSLR shot here: NHAC Pix - newest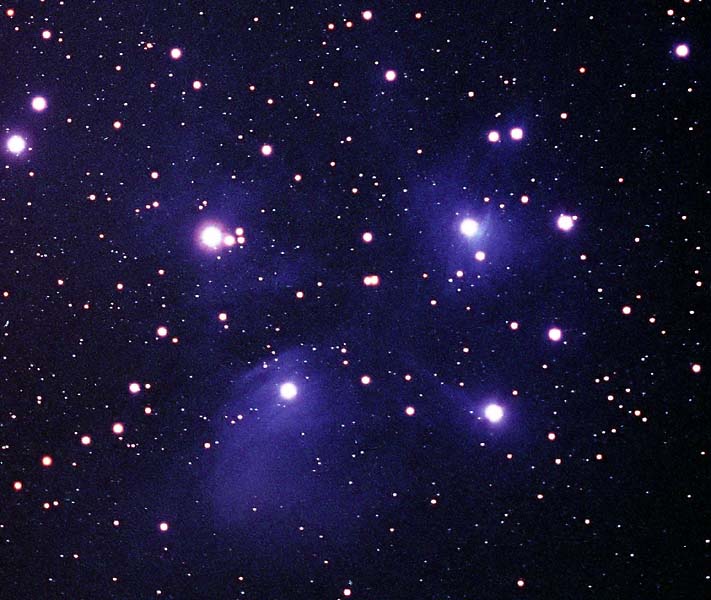 M45 - The Pleiades (old version)
This is a stack of two images; a new one & an old image (above). See old image for more info. I also have a Nikon D100 DSLR shot here: NHAC Pix - newest

M45, Stack 1
Above: 4 images exposed from 2 to 3 minutes, Nikon D100, ISO1250 setting, Tak TOA 130 with reducer (f5.8, 754mm), guided using STV eFinder.
Top Image Info:
North Houston Astronomy Club "Neal" Observing Site
45 minute guided exposure using STV with ST80 guiding telescope
Losmandy GM-11, Camera mounted using DSBS system
Olympus OM-1n Camera on Takahashi FS102 Telescope, 610mm focal length, f5.9
Kodak Elite Chrome 200 slide film (pushed 1 stop)
Negative Scan, Nikon Coolscan ED IV, Processed in Photoshop
Astronomy Pictures: Dick Locke's Astrophoto Gateway page....
Copyright © 2000- 2005 Dick Locke. All Rights Reserved. Send email if interested in using images found on this website.
Contact and Image Use Information


hits since 6/13/2003 update.