West Texas March 2010 Astronomy Pictures

I
mages and text Copyright © 2010, Dick Locke. All Rights Reserved. Contact and Image Use Information
This is my April 2010 Davis Mountains Astronomy page.
My Main West Texas Astropix page is here.
Newest: December 2010 Astronomy Pictures


2010 Dark Nebula Pictures
Below: M63. Click here to go to the M63 Page for more information and close-up images.
This shows an interesting area of IC 4628, see below.
Next: Moon, Mercury, and Venus Conjunction shots from April 15th. Mercury is just below and to the left of the moon, which is about 2.75% illuminated per The Sky.

Wide Angle: Orion, Taurus, The Pleiades, Venus, Moon, and Mercury
The awesome blues come from the thin mountain air & the camera. These are straight conversions from the camera, resized and sharpened (no color adjustments.)

Venus, Moon, and Mercury Above the Trees



Additional 4/15/2010 Images: Venus, Moon, Mercury: About to Set

Venus and Mercury Set from the Davis Mountains
Details: From the cabin porch (so looking up a hill with ~3 degree horizon) around 9:20 top, 9:30 p.m., Sunday 4/11/2010. The clouds eventually went away, and this was one of the three clear nights on the trip. You can barely see the star Hamal, the brightest in Aries, on the extreme low right at about Mag 2. Mercury is mag .6, and Venus -3.9(bright!) according to The Sky. Photo: 6 Sec, ISO 800, 105mm setting on 18-200 Nikon lens, D200, tripod.

Squeezed In: Mercury & Moon Conjunction in Telescope. 8:40 p.m. 4/15/2010, just over 1.5 degrees separation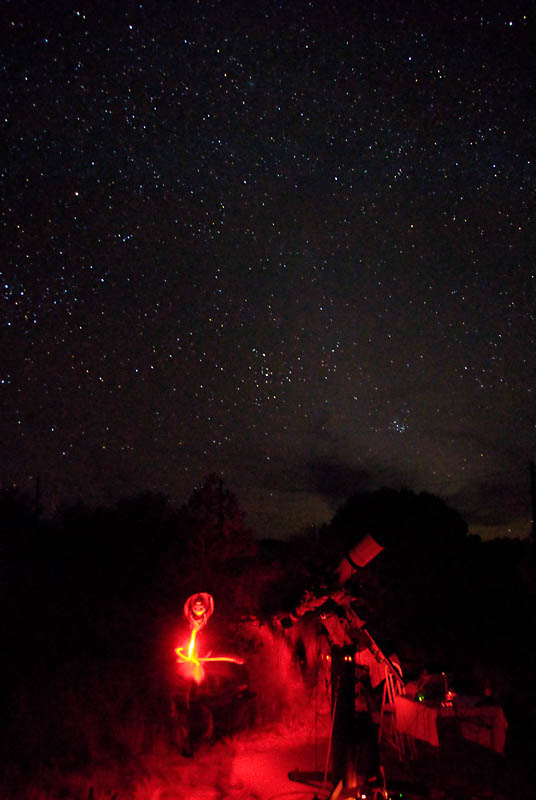 April 13th: Dick, Scope, Zodiacal Light (the dim triangular cone of light rising out of the clouds), along with The Pleiades (right, above tip of scope) and the Hyades star cluster in Taurus (mid center, the V pointing down).
| | |
| --- | --- |
| M89 & M58 | West Texas 2010 Scenic Pictures |
| October 2008 Astronomy Images, including interesting moon shots. | |
| Cactus Flowers | All West Texas Scenic Photography |
| See M62, and M16 on the Southern Clusters Page | M5 is here |
Main West Texas Scenic Picture Page is here
Dick Locke's Astrophoto Gateway page....
Images Home

Contact and Image Use Information