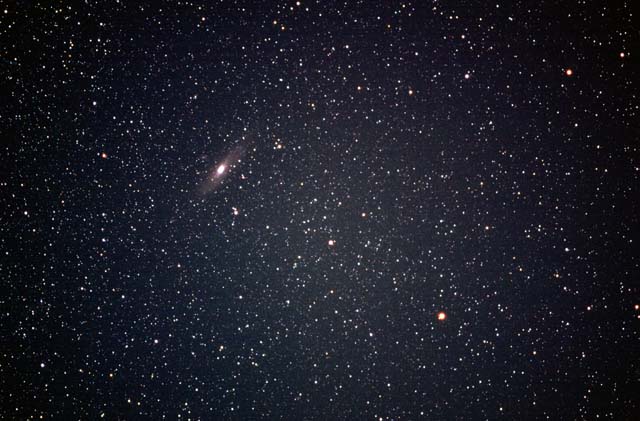 M31 (Andromeda Galaxy) Full Frame

Notes: The Andromeda galaxy can be seen as a hazy patch with the naked eye from a dark site. It is easily visible with binoculars. In fact, it is too large to fit into the largest field of view of many telescopes, so it is best appreciated with binoculars. M31 is over 2,000,000 light years away, and is the nearest major galaxy to our own "Milky Way." This is a full frame shot taken with a 100mm (short telephoto) camera lens. More details are below. Please check out the close-up of M31 to see more detail.

North Houston Astronomy Club, Neal Site
August 26, 2000
Photo by Dick Locke
20 minute exposure (some guiding)
Piggyback on Losmandy GM-8
Olympus OM-1n, 100mm Olympus f2.8 (non-MC) lens at f2.8
Kodak Elite Chrome 200 slide film
Negative Scan, Minolta Scan Dual
Processed in Photoshop:
crop, auto-levels, resized to width of 640 pixels, saved as JPEG quality 3
Note moderate vignetting using this lens wide open, although the contrast stretching used to bring out the galaxy greatly enhances this. (Vignetting refers to the effect where the middle of an image is brighter than the corners. This is most pronounced in lenses used wide open; i.e., at full aperture.)

Copyright © 2000- 2003 Dick Locke. All Rights Reserved. Send email if interested in using images found on this website.
You can reach me by e-mail at: Dick Locke <rlocke1@houston.rr.com> Click Here to email Dick.


hits since 6/13/2003 update.