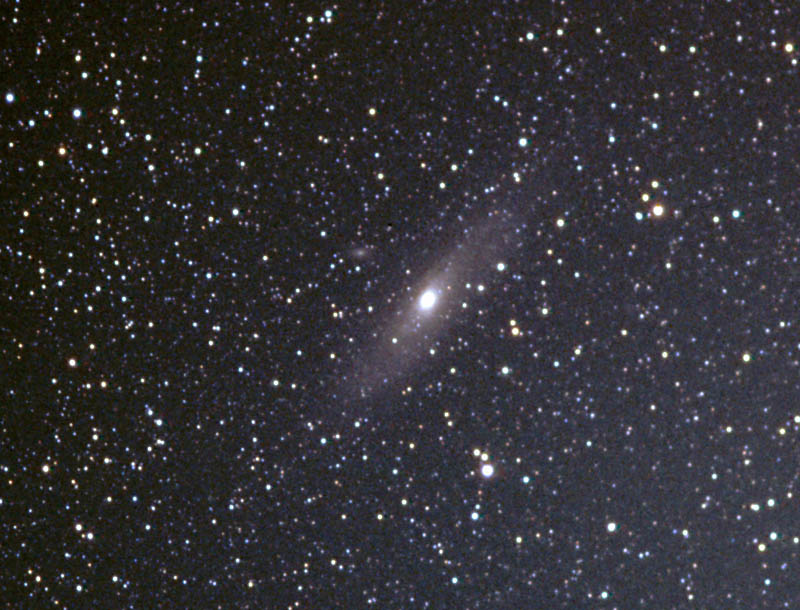 M31 (Andromeda Galaxy) Close Up
Notes: This is an extreme close up of a shot taken with a 100mm (short telephoto) camera lens. Notice another, much smaller, galaxy (looks like a little fuzzy blob) off to the left and just above the bright core! That is M110. There is yet another galaxy, M32, visible as follows: just to the upper right of the bright core there is a small orange star, then a little up and to the right is a white star, and a little down and to the right of that is M32! Three galaxies in one!
This shot was taken on Kodak Elite 200 slide film, which has a very fine grain and can stand the "blow up" pretty well. If you look carefully you can see hints of the dust lanes in the galaxy.
Neal Site, North Houston Astronomy Club
August 26, 2000
Photo by Dick Locke
20 minute exposure (some guiding)
Piggyback on Losmandy GM-8
Olympus OM-1n camera, 100mm Olympus f2.8 (non-MC) lens at f2.8
Kodak Elite Chrome 200 slide film
Negative Scan, Minolta Scan Dual
Processed in Photoshop
Copyright © 2000- 2003 Dick Locke. All Rights Reserved. Send email if interested in using images found on this website.
You can reach me by e-mail at: Dick Locke <rlocke1@houston.rr.com> Click Here to email Dick.


hits since 6/13/2003 update.