M83 - Messier Object 83 Image - DSLR Astrophotography
All images and text Copyright © 2008, Dick Locke. All Rights Reserved. Contact and Image Use Information

Spiral Galaxy M83 Picture - The Deep Southern Sky
A nice spiral galaxy way South of Corvus the crow, in Hydra (!), between Virgo and Centaurus. How often do we northern latitude dwellers look in Hydra? This is pretty low in the Southern sky from Texas. It barely clears 30 degrees above the horizon at the HAS site.
Object SEDS Info. Sometimes called "Southern Pinwheel." "M83 was discovered ... on February 23, 1752;...It was next cataloged by Charles Messier on February 17, 1781; from his mid-northern location in Paris (at 49 degrees Northern latitude), it is such a difficult object that he stated that: "One is only able with the greatest concentration to see it at all." So this is yet another object for which a southern US location is a big "astronomical" advantage ;-)

M83 is a big bright object and a highly recommended target if you have clear skies and can get good guiding. It's 30 degrees at its highest from this area, which is challenging territory for any extended period of time. Hitting it 2 nights in a row is best ;-)
This is a March 2008 re-do with the new mount, 26 x 4 = 104 minutes total exposure March 7/8, 2008. Canon EOS 20Da (unmodified), Takahashi TOA 130 (a 5" APO refractor) with Tak flattener, and Astro-Physics AP 900GTO mount. My current image processing workflow is here.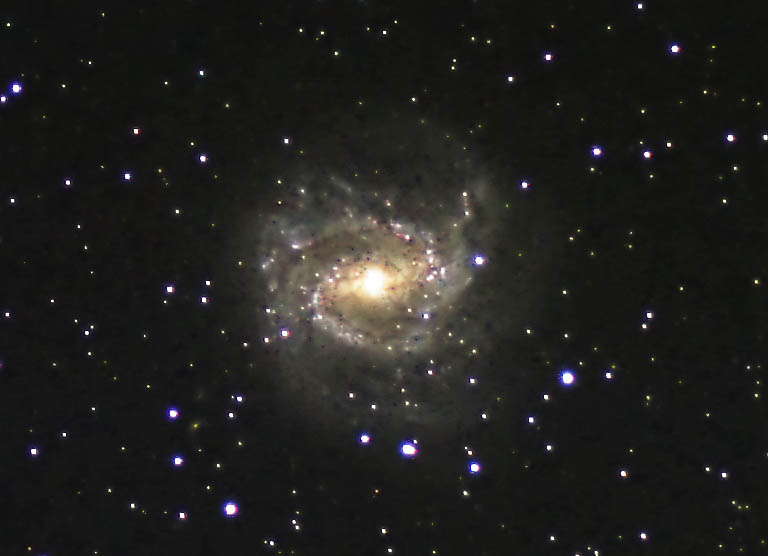 Old (2006) M83 Picture - I've come a long way on this one I think!
Other pix from my trips to the Texas Hill Country are here.

M83 - DSLR shot (old Nikon D100 shot)
4/2/2005 Tracking not as smooth as I'd like.More Notes: This was one of the hand-full I had not yet viewed or imaged, so I jut checked it off. Imaged at prime focus with Nikon D100 DSLR camera, ~6 images exposed from 2 to 3 minutes, ISO ranges from 800 to 1250, Takahashi TOA 130 with reducer (f5.8, 754mm), guided using STV and ST80. Images stacked in Registar, with usual processing in Photoshop CS. Captured 4/2/2005 from NHAC Neal Site.
Copyright © 2006, 2008 by Dick Locke. All Rights Reserved.
Contact and Image Use Information