This is my Takahashi FSQ-85 telescope page. This "Baby Q" is an 85mm APO refractor I'm starting to use in spring 2011. More about my astrophotography setup is here on my main equipment page.
The small 5.4 micron pixels make the ST-8300 a good match for the short focal length "Baby Q" refractor. This shows the reducer and required 3 small rings including the TCA 1020. Reference data about this scope is below.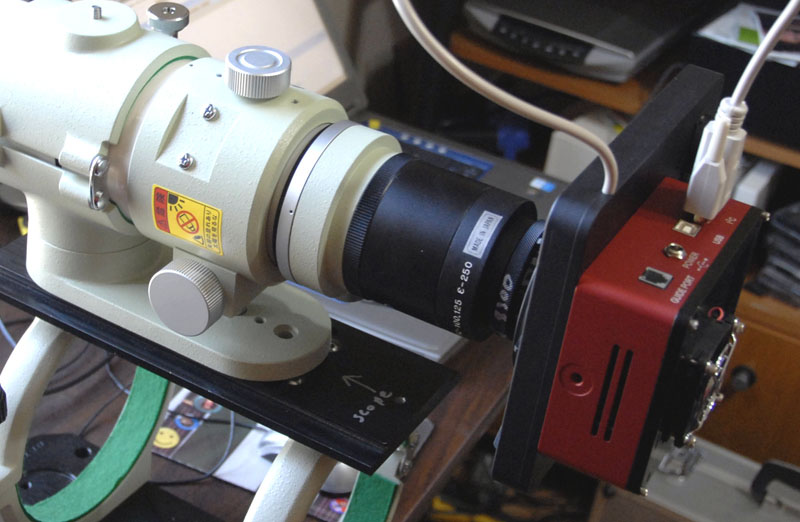 FSQ85 without the Reducer, using the CA adapter and two rings (notably, the TCA 1020 is not used).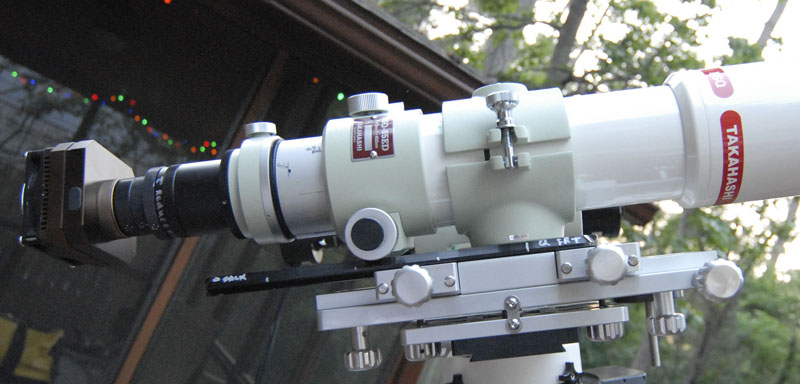 FSQ-85/Reducer, QHY8, Casady pointing saddle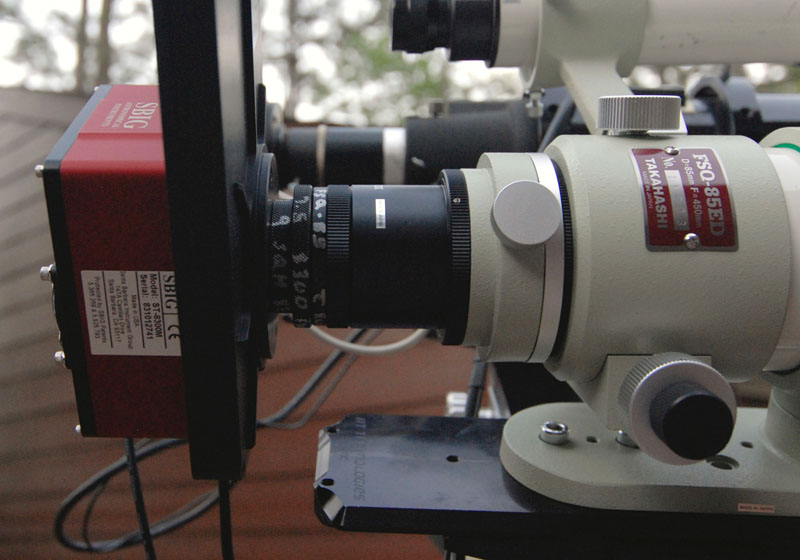 FSQ-85/Reducer, ST-8300. This shows a good shot of the 3 rings, a 9, a 7.5, and the TCA1020 needed for use with the reducer.
FSQ-85 Reference Data
Listed weight is 8.6 lbs.

The bottom plate of the tube holder plus BT Technology plate is 3 lbs 3 oz. The Tak plate by itself is 1 lb 3 oz. The two Tak pieces are 2 lb 14 oz. The BT plate is 1 lb 15 oz.

The dew shield outer diameter is 114mm, which is the same as the Tak FS78 & Sky 90.
SBIG
Fastest possible shutter speed (ST-8300M) is very close to 0.1 seconds. Unfortunately, that's too slow for the EL panel I use as a light source through a clear filter on my f5 Tak FSQ-85. Attenuating the light source with ~4 pieces of white paper is my work-around.

My FW8-8300 Filter wheel (this is a new model as of early 2011) control is to be supported in a v206 release of CCDSoft. After registering CCDSoft I was able to download the "daily build." I confirmed selecting the FW8-STL is possible in v206 and I also confirmed that this selection seems to manage the filters properly. I also upgraded to the latest production version of Nebulosity and confirmed it allows control of the filter wheel. Maxim DL supports the filter wheel in a production release.
FOR 72.2mm BACKFOCUS: SKY-90 AND NEW "Q",
0 .73x REDUCERS, FSQ-85 with Reducer
CANON EOS DIGITAL SLR

**TCA1020 + TMW0004

NIKON DIGITAL SLR

**TCA1020 + TMW0001

SBIG ST8300

SBIG ST8300 +FW5

TCA1020 + TCD0385 + CAMERA

TCA1020 + TCD0075 + TCD0009

QHY-8

TCA-1020 + TCD0350 + CAMERA
SPECIFICATIONS
| | |
| --- | --- |
| Type | Modified Petzval 4-element double ED flat-field design |
| Aperture | 85mmØ |
| Focal Length | 450mm |
| Focal Ratio [Prime Focus] | f/5.3 |
| Image Circle [Prime Focus] | 60mmØ 5.6° |
| Usable Back Focus | 200mm |
With Reducer - QE .75x
| | |
| --- | --- |
| Effective Focal Length w/reducer | 328mm |
| Effective Focal Ratio w/reducer | f/3.86 |
| Image Circle | 40mmØ |
| Image Field | 7.0? |
| Metal Back Distance | 72.2mm |
FSQ-85 first ST-8300 light, 4/1/2011, below. This is 12*2 minutes with the Orion nebula only about 25 degrees elevated, from the back yard, fair transparency. Scroll down for details. My ST-8300 Narrowband imaging page lives here.

FSQ-85 (reducer), Sbig ST-8300, H-alpha Filter "First Light"
This shows a bit of the faint nebulosity in a fairly wide area around the

Orion Nebula, also see Comparative Close-Ups of the Orion Nebula, shot with a H-alpha filter on a monochrome CCD camera through a Takahashi "Baby Q" telescope (the subject of this page!)
Image details: FSQ-85 First ST-8300 light, 4/1/2011. This is 12*2 minutes with the Orion nebula only about 25 degrees elevated, from the back yard, fair transparency. Astro-geek details: I used 100 EL panel flats, maybe 50 flat darks (these flats need a relatively long 4+ second exposure), and 32 dark frames; camera temp -5 degrees C, rough polar alignment and guided, captured and processed in CCDSoft, focus assisted with a "GoldFocus" mask & software.

hits since March 2011.