Oregon Pictures - 2007, Waterfalls & Moons by Dick Locke
All images on this web page Copyright © 2007, Dick Locke. All Rights Reserved. Contact and Image Use Information
Waterfall Pictures here: Page 2

Wahkeena Falls, Oregon
I just returned from a business trip to the Pacific Northwest. I was a day in Seattle, 2 days in Eastern WA & OR, then flying out of the Portland area. On the way into Portland from Boardman/Arlington OR, along the Columbia River Gorge if I have it straight, I was able to stop at 3 waterfalls within a few miles of each other. They were Horsetail Falls, Multnomah Falls, and Wahkeena Falls.

Wahkeena Falls, Straight At Ya
This view above looks up at Wahkeena Falls late in the afternoon.

Wahkeena Falls: Smallest of the three falls, but very scenic
Earlier on the trip I was in Boardman, OR, in the center/west part of the state. This is a desert area with 10 inches of rainfall per year, according to a local at least. Had great weather, low seventies.
Below are pictures of the full "Harvest Moon" rising on the 26 of Sept 2007, and it setting the next morning.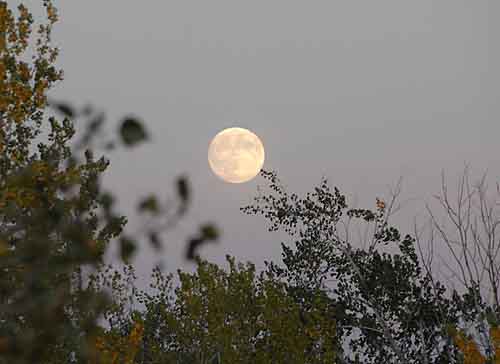 Full Moonrise... September 26, 2007 (Boardman, OR)
This was the Harvest Moon. This would be the moon for the Chinese "Full-moon Festival" Or Mid-Autumn Festival. I should have had some mooncake!

Full Moon Sets Over the Columbia River
Above shot the next morning over the Columbia River.


More: Moon and Planets
This Page: Oregon Index
Copyright © 2007 Dick Locke. All Rights Reserved.
Contact and Image Use Information