MOON Eclipse Picture Page
All images on this web page Copyright © 2000-2004, Dick Locke. All Rights Reserved. Contact and Image Use Information


Check out the cover moons...

The mag hit the newsstand 2/13/2007. The Credit on the Contents page reads: "ON THE COVER: A sequence of three Moons highlights the unusual yet breathtaking views seen during a total lunar eclipse. Photos by Dick Locke." Click on the magazine for a larger image.

Dick's Lunar Eclipse Montage
Starting from the lower left is the early part of the eclipse, progressing along until totality, center, and than coming out of totality (bright part on left). See below for camera/telescope details. All the above images straight out of the camera; only mods were resizing and slight sharpening as a final step.

Totality, October 27, 2004
Lunar Eclipse, October 27, 2004 -- Nikon D100 camera, Takahashi TOA 130 telescope, prime focus with Nikon Nikon TC-14 1.4x teleconverter. 8 seconds exposure, ISO 400, Cloudy -3 setting, with minimal color changes in Photoshop.

This is a version with less color but showing more detail in the bright area. 8 seconds at ISO 200 setting.
Below: Lunar Eclipse, January 20, 2000 -- Fuji 100 print film, prime focus, Takahashi FS 102 telescope with 2X tele-extender at f16 - Below.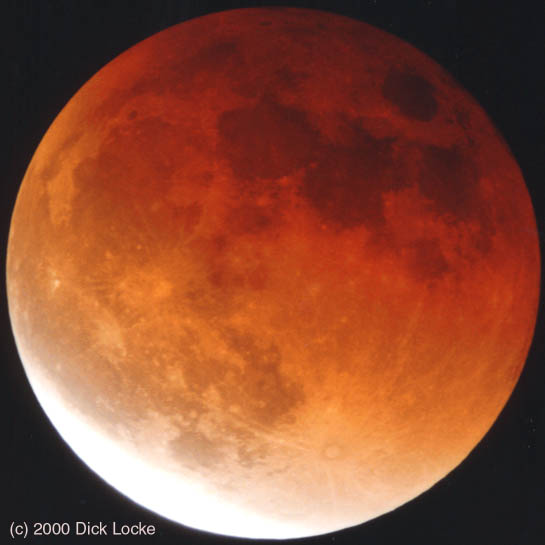 Copyright © by Dick Locke. All Rights Reserved.
Contact and Image Use Information