73 P, Component C, 4/30/2006, 1:47 a.m. CDT
Taken the night of 4/29 at the HAS site near Columbus. This is a single 4 minute exposure, full frame, ISO 800. See the shots from earlier in the week below. Equipment same as below. The other HAS Pix from 4/29/2006 are here.

Comet 73P Component C - (B is below)
4/26/2006 from HAS site. Above: 2 minute exposure of with Takahashi TOA 130 (a 5" APO refractor telescope) and Canon EOS D20a. I was fighting thin clouds all evening! These two images were the best I could manage. This comet has split into multiple pieces which makes it somewhat unpredictable from day to day - it's essentially disintegrating as we watch!. Above is the "C" fragment, and below the "B" fragment.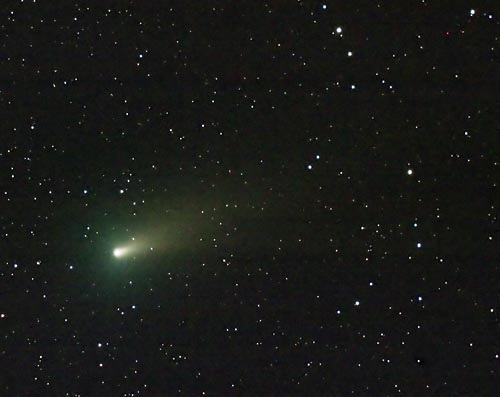 Comet 73P Component B
This comet fragment seems to be more colorful than the other, though that may be due to the sky conditions I was fighting. This is a 3 minute exposure at ISO 800.
Observing notes: I observed B and C with various binocs Wed. night (4/26/2006) and Saturday night (4/29/2006) from the HAS site near Columbus TX USA. I got a hint of a tail on C and not much on B. It seems that perhaps B dimmed a bit from from what I remember on Wed. B looked like a large, bright galaxy both nights. Hard to make comparisons as transparency was not as good on Wed as Saturday during times I observed the comets. I definitely was not able to observe the comet fragments naked eye. I tried several times for C near the zenith to no avail.
The other HAS Pix from 4/29/2006 are here.
Copyright © 2006 by Dick Locke. All Rights Reserved.
Contact and Image Use Information