Fixed Tripod Astronomy Pictures
Featuring: Newer Star Trail Pictures
Copyright © 2003-2013 by Dick Locke. All Rights Reserved. Contact and Image Use Information


Planet Alignment Pictures here

Zodiacal Light, The Pleiades, and the Scope
Zodiacal light, visible from very dark skies after sunset, is actually sunlight reflecting off dust! Above you can see the zodiacal light above the tree & scope, pointing up towards the Pleiades (M45) (see below). I used my red flashlight to paint the tree & scope for effect. Nikon D200 camera, 30 second exposure with super-wide lens = Tokina 12-24 F4 G lens at 12mm, from Spring 2009 trip to the Davis Mountains.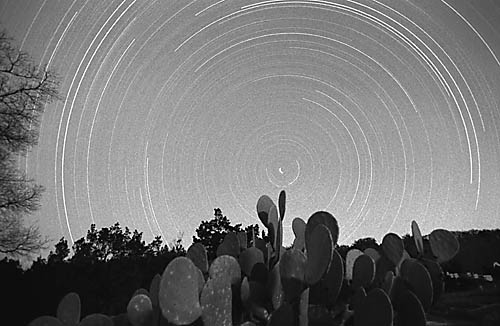 Star Trails Over Cactus... Wimberley, TX

December 2012 Star Trails Video from Wimberley, TX
The image above is from my February 2007 trip to Wimberley.
The links above and below will take you to other cool star trails pictures.
Copyright © 2003-2010 Dick Locke. All Rights Reserved.
Contact and Image Use Information


DSLR Star Trails Resources and References from the Web
Another
stacking
Fill in gaps
And the user manual is here
Flicker discussion and alternative
Another great article
Once I got done, I found if I make a separate copy in Photoshop (or whatever you use) and rotate one of the final copies a really small amount, say 0.12 degrees and then flatten them together, it gets rid of those dark "zipper-teeth" like gaps when the shutter closes and reopens.