Lizard (Anole) & Bug Pictures
Copyright © 2003-2012 by Dick Locke. All Rights Reserved. Contact and Image Use Information
Picture of an Anole after shedding his/her skin. I'm not sure if this was actively eating the skin, or just using all available means to get rid of it!


Texas Spiny Lizard, Sceloporus olivaceus
From Wimberley, TX, Spring, 2012. See how well he blends in with the tree, below. These guys have a bit of blue on their bellies; wasn't able to get a good shot of that...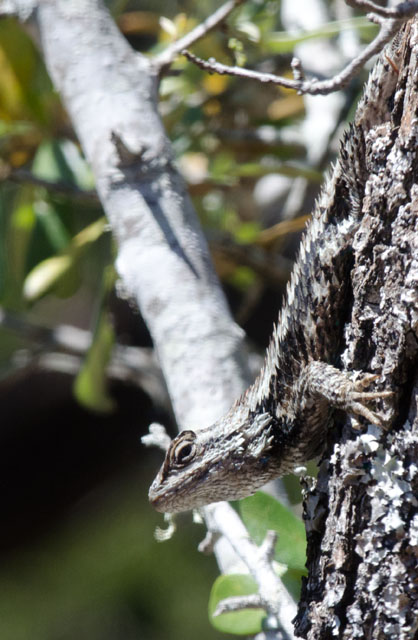 Don't Miss the Spiders

An Anole eying a bug as a potential snack, perhaps.

Lizard from the Davis Mountains, 5/2004
(See page here.)

Yum!
Picture of Anole eating a Cicada


Up Close... (Different Bug) (I'm guessing an Assassin Bug...) Nikon N90s, Nikon 105 f2.8 macro, Flash, Aperture priority ~f32, Kodak E200 film unless otherwise noted


Texas Alligator Lizard Picture
(see note below)My host at the Starry Night B&B identified this guy:
This lizard is called "The Texas Alligator Lizard".
You can see a description on this site.....here is the link: http://www.zo.utexas.edu/research/txherps/lizards/gerrhonotus.liocephalus.htm


Ladybugs and Lizards
Copyright © by Dick Locke. All Rights Reserved.
Contact and Image Use Information