Aphids & Flowers
Copyright © 1998-2004, Dick Locke. All Rights Reserved. Contact and Image Use Information
Here are some pictures taken in my neighbor's yard. They are growing some beautiful flowers, perhaps thanks to special water filters or helpful fertilizers, either way they are lovely. I went over there chasing a butterfly that I never found, but while I was there I found some photo-ops. Nikon N90s, Nikon 105 f2.8 macro, Flash, Aperture priority ~f32, Kodak E200 film
Update 11/31/02: Here's something from the last of the "Aphids" shooting. Our neighbors released hundreds of Ladybugs to take care of their Aphid population. I had carefully shot a bunch of print film of the ladybugs & aphids, which Eckerds promptly destroyed. I came home, mad, and dashed across the street to try to get some decent shots. Despite foul weather (rain & wind), most of the aphids were gone after 2 days. No longer super hungry, the ladybugs had time to attend to other matters, as you can see from the pic below. Scroll down to see the older photo gallery.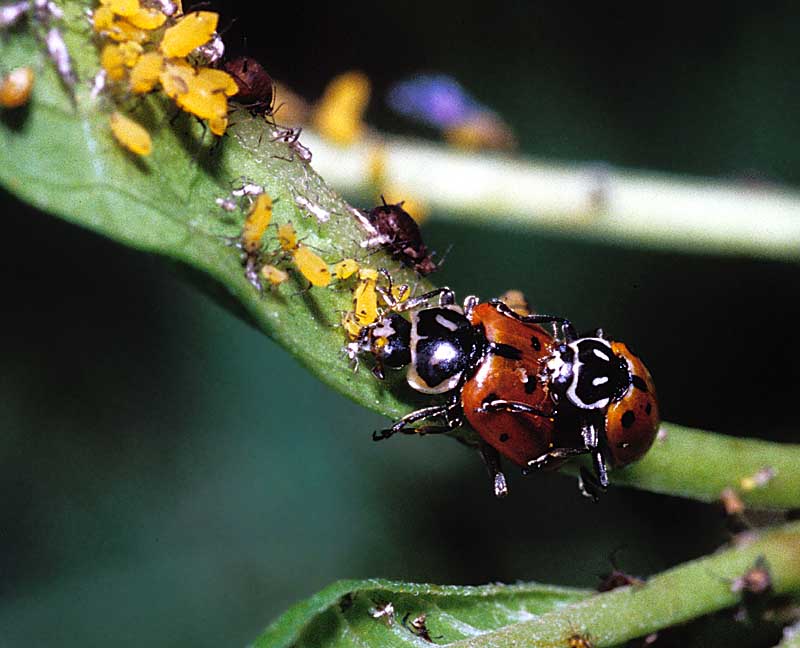 Finger (for scale)
This should help you get a feel for the scale of the following pictures. This is my index finger.

Beautiful Flowers

Aphids
The Aphids are digging it...

Crowded

More Beautiful Flowers

Still More Beautiful Flowers

Very Close Aphids
This is the closest of the aphid shots. Note a couple of 'em with wings, and a few other bugs as well.

Aphids & Buds

Still More Aphids
Dick's Pix (Dick Locke's Image Page)
Copyright © Dick Locke. All Rights Reserved.
Contact and Image Use Information


hits
Last Update 1/20/13